The booking form will look similar to the image shown. Some fields may vary dependent on the setup chosen by your organisation.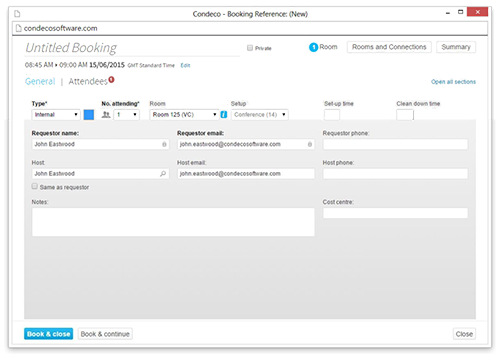 Tabs
If multiple rooms are in the booking, they show as tabs. You can toggle between the various rooms in the booking by clicking on the tabs.
Note: Mandatory fields must be completed before switching tabs.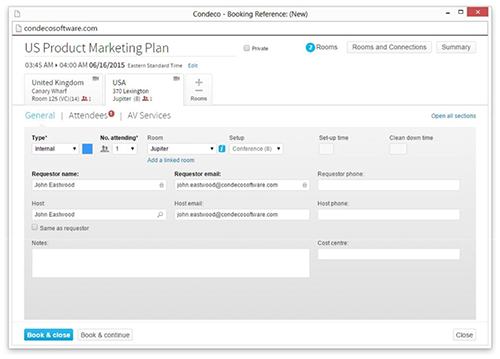 Title (Untitled Booking)
Click to enter the name of your booking or meeting. The meeting title will appear on Condeco Meeting Room Touch Screens and Condeco Wayfinders. Dependent on system setup, this field may not be required.
Private
Check this option to hide the meeting title on the booking grid and Condeco Meeting Room Touch Screens from other users.
Edit
Click Edit to amend the meeting date/time and also create recurrences. If your chosen room is not available in a recurring series, alternatives will be shown. Includes both rooms for meetings and conferences across multiple locations
Open all sections
Click to change how you view the booking form. Instead of tabbed pages, General, Attendees, Food Services etc. will appear in one long list.